Humanitarian Crises Response resources – latest addition
WORKING WITH INTERPRETERS IN A THERAPEUTIC SETTING

Author: Millay Vann, with thanks to Dr Kerry Young, Dr Sameena Akbar, Dr Eileen Walsh
Affiliation: Woodfield Trauma Service, Central and North West London (CNWL) NHS. The Woodfield Trauma service is an evidence based psychological therapy service for refugees who have experienced trauma. It is part of the publicly funded National Health Service (NHS) in England in the UK.
This training was commissioned by the EABCT's Humanitarian Crises response working group, as it is recognised that many individuals who have experienced a humanitarian crises will be displaced and seeing therapists who speak a different language from their own. It delivers best practice information and examples for you to adapt in your country/setting.
It will be helpful to watch this session alongside Kerry Young's training session on 'Trauma focused treatments for Post Traumatic Stress Disorder (PTSD) in refugees and asylum seekers' which challenges all of us to overcome our own worries and concerns about our abilities to work therapeutically with refugees and asylum seekers – You can do it, and please do!!
Inspiring Women in CBT
INTERVIEW WITH ELENA HEINZ
Elena Heinz, PhD
Board Member of Greek Association for Behavioural Modification and Research, EABCT 2020 organizing committee chair.
Elena Heinz is an expert in research on eating disorder and schema therapy. Lecturer and supervisor for the University of Thessaly, Greece.
Interview partner: Irina Lazarova.
Elena Heinz, PhD
INTERVIEW WITH ANNE MARIE ALBANO
Katy Grazebrook, President of the EABCT in conversation with Anne Marie Albano (PhD). Anxiety awareness expert, Anne Marie Albano is leading pioneer in clinical child and adolescent psychology.
Learn more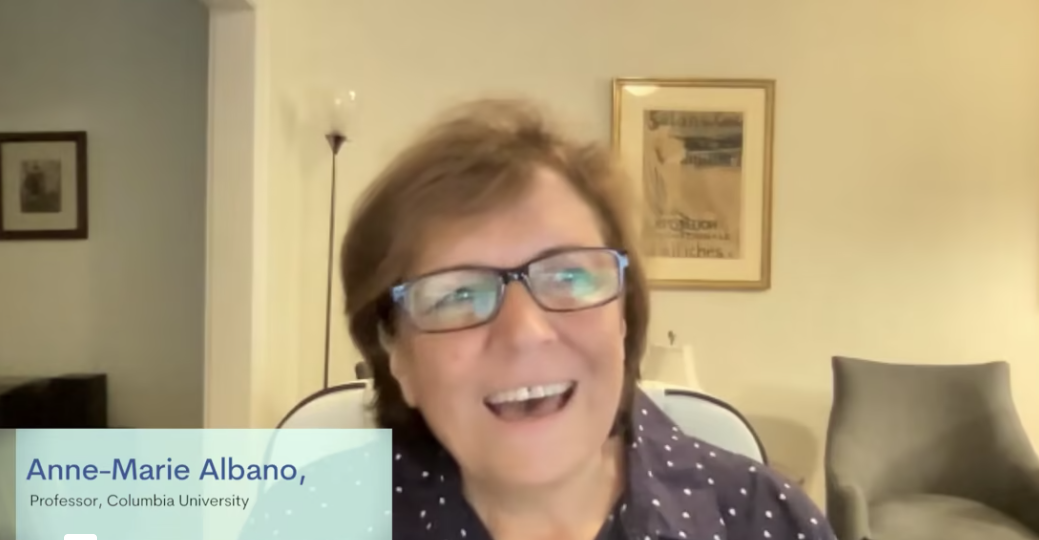 Anne Marie Albano, PhD
EABCT statement in support of Ukraine
The European Association for Behavioural and Cognitive Therapies protests against the violation of international law by the unprovoked invasion of Ukraine, a sovereign nation, by Russian troops. As mental health professionals we know about the impact of war on the mental health and well-being of individuals and society in the present and for generations to come. This should be prevented by the cessation of hostilities and the restoration of peace.
The Ukrainian and Russian CBT Associations are members of EABCT and we are hearing first hand the devastating impact this war is having on the people of Ukraine and also of the Russian people's participation in anti-war protests within Russia.
Please hear from our Ukranian representative President of the Ukrainian Association of Cognitive and Behavioural Therapy (UACBT), Valentyna Parobii: 5 key points about war in Ukraine
The European Society for Traumatic Stress Studies (ESTSS) has provided recommendations about what mental health professionals can do to act against war in Ukraine.
"Stop war in Ukraine" Photo by Matti (Pexels)
The history of EABCT
yes, it´s 50 years already!
"On the 21st July 2021 the European Association for Behavioural and Cognitive Therapies reached it's first half-century. For 50 years the association has been the driving force in the development and promotion of cognitive and behaviour therapies which are now recognised across Europe and the World as established and effective evidence based psychological therapies and the choice of treatment for many people."
Rod Holland, Past President
read the anniversary booklet
EABCT Member Benefits
Get engaged in EABCT's network, visit our high-quality congresses for member rates, benefit from our book offers and more.
Read more